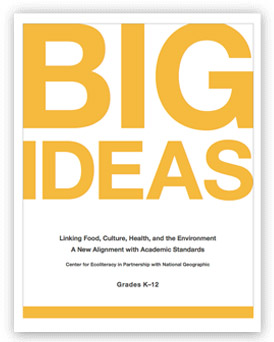 This looks pretty wonderful–and what a rich partnership with National Geographic. Can't wait to read it!
I don't know about anyone else–but the "old" national geography standards published by National Geographic Society-called Standards For Life:
Geography Education Standards Project. 1994. Geography for Life: The National Geography Standards. Washington D.C.: National Geographic Society Committee on Research and Exploration.
are still the best example of how standards should be written for teachers. I appreciate the pieces of the Common Core and the new NGSS standards and new SS standards might be more "user-friendly" but they take away the intellectual creativity of working with the BIG IDEAS. This is how I think this new book will be so helpful. Center Eco-Literacy  has stuck by this view of the standards. and its available as a FREE download! Hooray for the folks at Center for Eco-Literacy!
http://www.ecoliteracy.org/downloads/big-ideas-new-alignment-academic-standards